Geneva Hultenius, a 2nd grade teacher at Heritage Elementary School, had assigned each of her students to write a letter of appreciation to their favorite restaurant this past school year.
One of those students was Ariany Vazquez, second grader in Ms. Hultenius' class, and she wrote her letter to a McDonald's on E street in Chula Vista, which is just minutes away from her elementary school.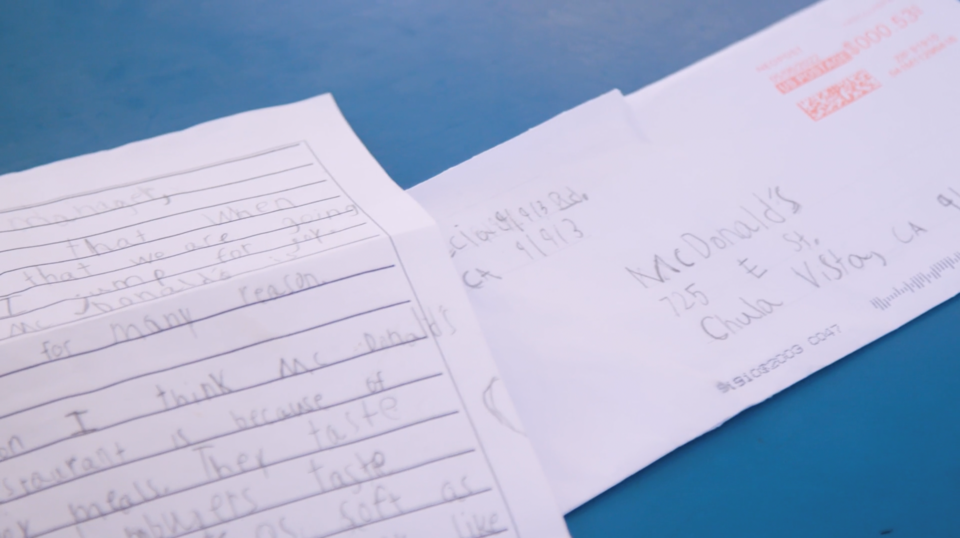 Ariany wrote the following on the joyful letter of appreciation to the restaurant:
"The hamburgers taste like secret sauce. They are as soft as a bed. It makes me feel happy like I am floating on a cloud… the workers treat me like I am God. I feel like an angel when I go there. The restaurant looks like heaven," she wrote. "Some people are peacefully eating and it is also quite, maybe one day I can go there on my birthday,

sincerely,

Ariany."
The second grader says she did not hesitate in picking her favorite restaurant, as the restaurant is simply unmatched to Ariany Vazquez.
"The reason why I wanted to write it to them is because McDonald's is my favorite restaurant," Ariany said. "Nothing can compare to McDonald's."
Not too long after Ariany's letter was sent, the McDonald's Owner and Operator, Jill Lindstedt, received the sweet letter written by the second grader, and she wanted to organize a special thank you to Ariany for taking time to express her appreciation for the restaurant.
And the response was more than Ariany could ever imagine.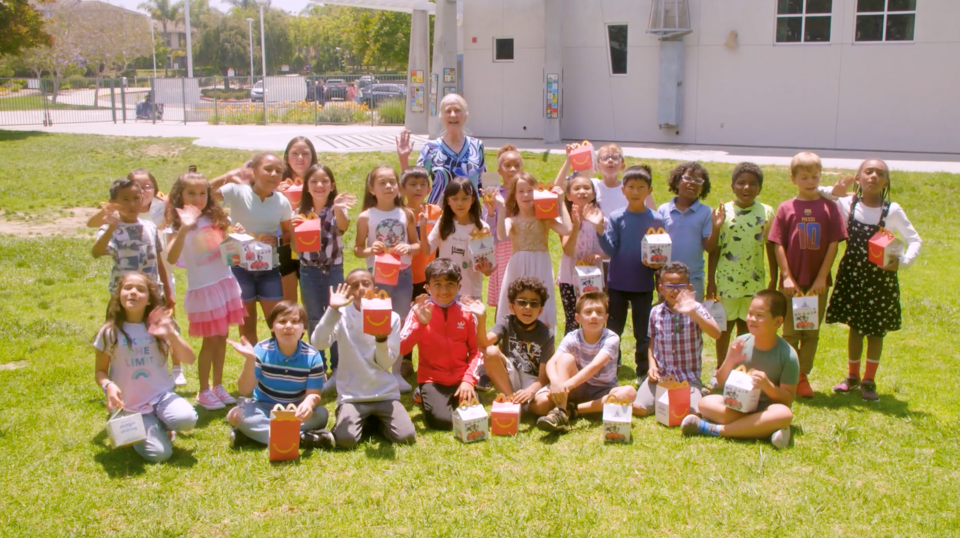 McDonald's "Thank You Crew" organized a special surprise by putting together up to 90 Happy Meals for not just Ariany and her class mates, but the entire second grade class at their end-of-the-year party on June 2nd.
Ariany's teacher, Ms. Geneva Hultenius, said that she was surprised by the restaurant's generosity for putting together something that will forever be remembered in their memories.
"My students had to write an opinion essay, 5 paragraph essay to their favorite restaurant in a letter form," said Ms. Hultenius. "So, Ariany wrote her letter to McDonald's, along with four other students, and she got a great response by having McDonald's deliver happy meals to the entire second grade class. I was shocked at how generous McDonald's was for providing this. This is something they will remember for the rest of their lives. They all congratulated her," the teacher said.
Raymond Vazquez, Ariany's father, expressed how much this means to his little girl who has always been an admirer of the restaurant.
"She's always been a Mcdonald's fan, if she could go eat there every day of the week, she would," said the father.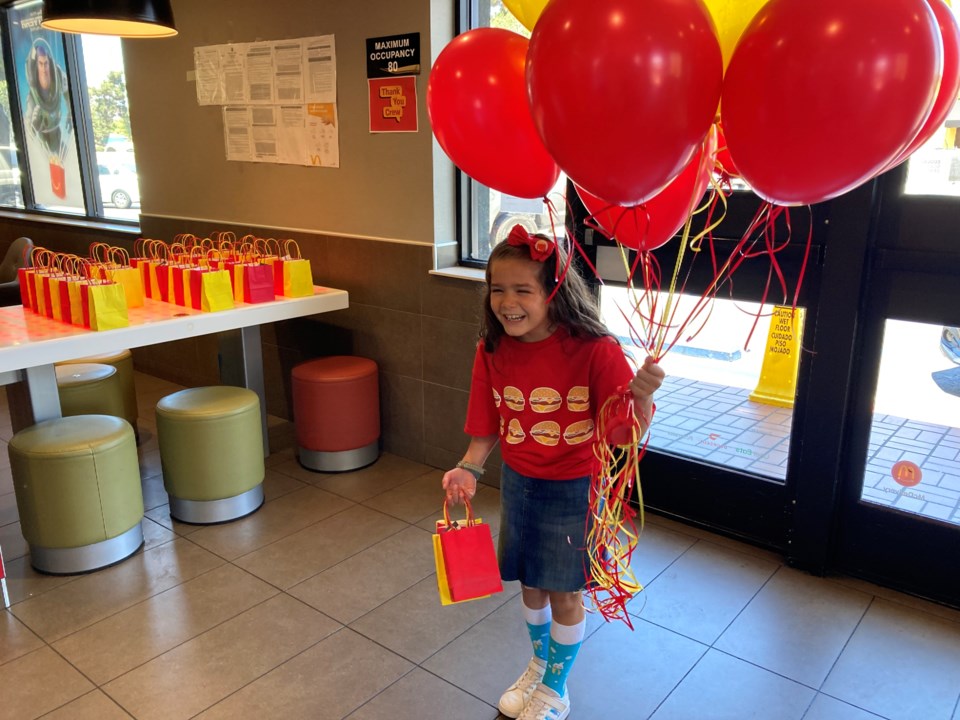 And now fast forward almost a month later, the generosity is being returned by Ariany and her family.
This week, Ariany and her parents planned a special visit to the McDonald's on E street, where she walked in with red and yellow(restaurant colors) balloons and gift bags for each working crew member. Each gift bag contained the valuable reward of a baseball ticket to go see The San Diego Padres as a work group later this month.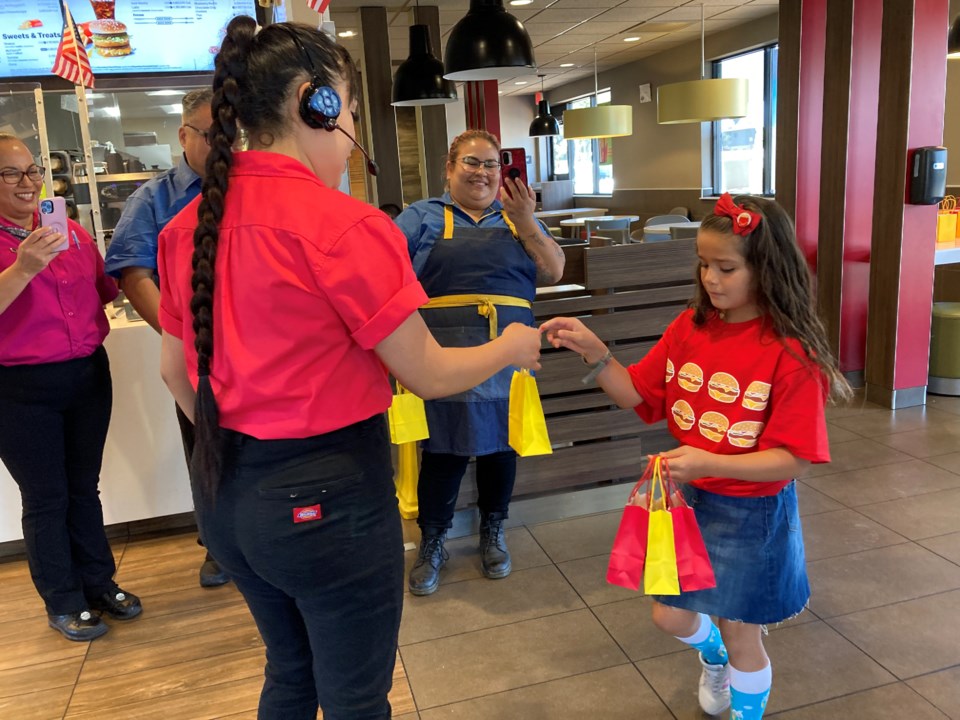 Wearing a red shirt with Happy Meal sandwiches printed on it, wearing printed socks of McFlurry icon patterns, Ariany made sure her appreciation for the restaurant was expressed in person this time around after previously writing them a letter.
And there she was.
Ariany went up to each crew member and handed them a gift bag, one by one, inevitably putting a smile on crew members who put a smile on her face whenever she swings by for a Happy Meal.