The San Diego-Tijuana region is known for being the busiest border crossing in the western hemisphere, but one company wants to reduce its hours-long wait times by extending the Blue Line Trolley across the border.
The San Diego Association of Governments (SANDAG) put out a Request For Innovative Concepts(RFIC) in November 2021 for transportation "connector" services. The agency selected three companies out of eighteen to enter into a Memorandum of Understanding (MOU), to collaboratively work and further develop their conceptual designs and costs, define service areas, explore innovative project delivery and financing options, and identify potential risks and barriers to delivering these projects.
According to a SANDAG agenda item, each of the proposal teams will receive $50,000 as partial compensation for the private-sector studies to participate in this phase of the RFIC process.
"Technology is advancing very quickly, and we want to ensure that we benefit from those advancements. So this process allows us to learn how new technologies, transportation trends, and project delivery methods could help us bring more and better transportation choices to the region faster," said Antoinette Meier, Senior Director of Regional Planning at SANDAG.
A proposal submitted by Los Angeles-based construction engineering company, Cordoba Corporation, seeks to optimize current border infrastructure, enhance mobility for efficient cross-border travel and reduce congestion. The company said their plans improve air quality and the quality of life of border communities as a result.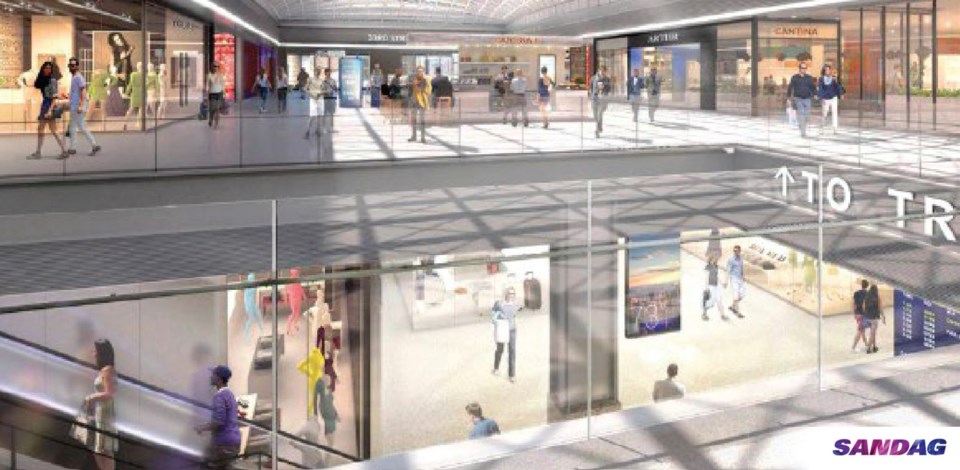 Cordoba Corporation plans to extend the Blue Line Trolley on an elevated guideway approximately one mile into Tijuana. In addition to the extension of the trolley, Cordoba is also proposing an expansion of the San Ysidro Transit Center. According to Meier, it will become a two-story multimodal transit station with pre-clearance facilities for customs and immigration.
"It will be very much like going through the Cross Border terminal that goes to the Tijuana Airport," Meier said.
Their plan also implements treatments to enhance the safety, efficiency, and reliability of the transportation system. SANDAG estimates that the San Ysidro Port of Entry sees more than 90,000 drivers daily. According to Meier, border wait times can go up to six hours, so "this will also help to reduce border wait times as well," she said.
"Border congestion is a huge issue for San Diego and Tijuana regions. Having this cross-border transit option will help to relieve some of that congestion, and that certainly helps air quality," Meier said.
The agency received proposals to implement electric and autonomous shuttle services and communities throughout the region, and utilizing the newest technology to develop the generation of connected and autonomous vehicles in the future, and prioritize transit travel in the near term.
The three companies will develop their concepts further, present them to a panel of experts, regional stakeholders, and the public in early October and participate in a question and answer session.
If the proposals are approved, SANDAG can enter into agreements to fund and further those proposals, ultimately building them out within a five to 10-year time frame.
According to Meier, the public will be invited to the showcase in the fall.
"That would be a great opportunity to learn more to meet the project teams and hear from them directly about their project proposals, and we'll keep our website updated with information on that event," Meier said.