State Assembly member Dr. Akilah Weber and SD County Vice-Chairperson Supervisor Nora Vargas honor the Filipino Lumpia Club in San Diego.
The Lumpia Club is a premier Filipino American Group filled with professionals of various industries all coming together for one goal above all else.
Networking.
JoAnn Fields is the founder of The Lumpia Club, which she created years ago to uplift her Filipino community here in San Diego.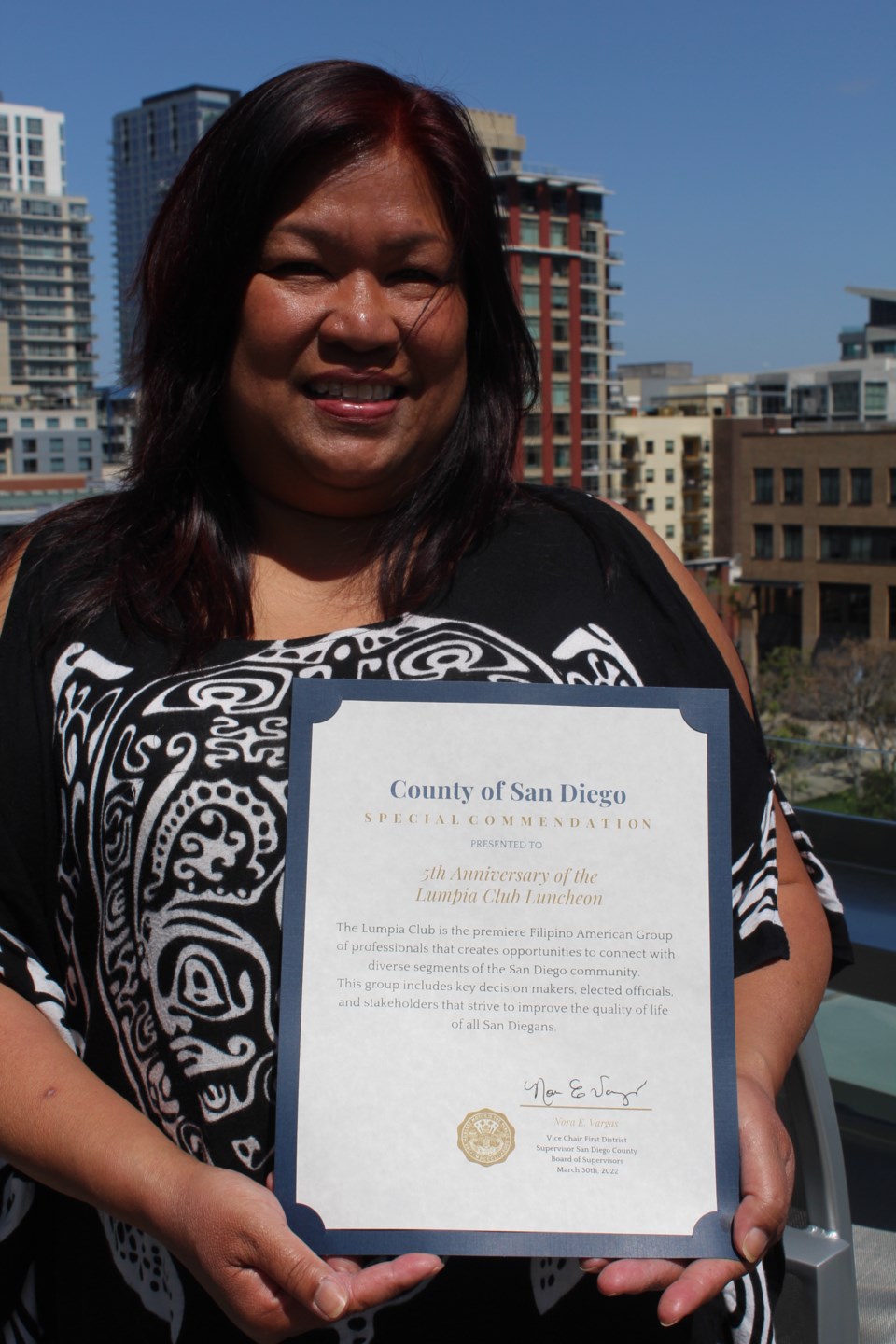 The club recently gathered in celebration of its 5th year anniversary over in Downtown, San Diego, where dozens of community professionals and aspiring leaders came together for a beautiful day of networking and or course, the delicious, authentic Filipino food.
The recent lunch gathering also included feature speaker Cynthia Paes, who came and spoke on behalf of Registrar of Voters County of San Diego as election season in San Diego nears.
Club founder JoAnn Fields received an incredible honor on behalf of San Diego County just last week, as her club was recognized and rewarded with a certificate presented by Andrew Harvey, Community Representative for Nora Vargas, member San Diego County Board of Supervisors from District 1.
"We are humbled and honored to receive this recognition by the County. It is confirmation we are on point with our mission and we look forward to continue working with our elected official to improve the quality of life for all San Diegans." Fields said.
Fields says that this honor highlights the advances made by her club, and shows that the community empowerment happening in her club is reflecting by the impact being made in professional work places.
"I am most proud of the strengthened relationships and connections our Filipino American community has made over the past 5 years. The mission of raising the visibility of our Filipino community continues to be achieved," she said. "Elected officials, decision makers, media outlets and other regional Filipino-American organizations are working with one another." Fields added.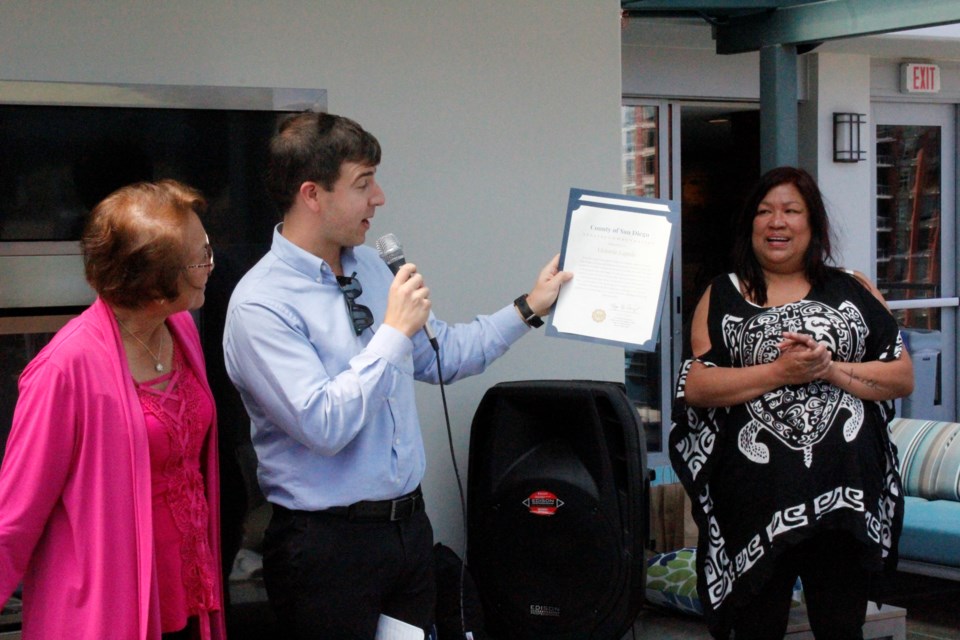 According to the US Census, Filipinos in San Diego are currently the second largest ethnic community in the County after Latinos.
There are 400,000 Asian-Pacific Islanders living in San Diego with over 217,000 coming from Filipino descent, and organizations such as The Lumpia Club are on a mission to expand the powerful qualities in those population numbers.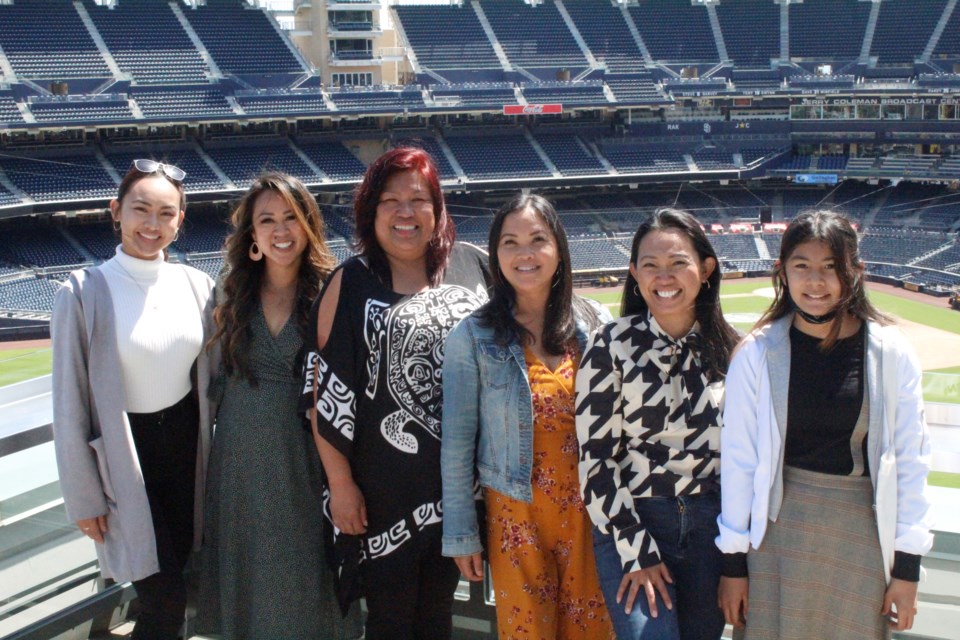 One of those Pinays who has found a home in The Lumpia Club is Krystalyn Basa, who is currently a student at Southwestern College and an aspiring leader in San Diego's Filipino community.
Basa says that groups such as The Lunch Club are beneficial to the County of San Diego, as they aim at lifting their ethnic community up high by highlighting the dynamic qualities found in their people.
"We need to see more of our people in higher positions in the workforce, we need to boost our dedication and strive to reach the very top." Basa said. "Our perseverance and willingness to put in the work, no matter what barriers we have, we always have that passion to keep going and moving forward." she added.