The Filipino Lumpia club gathered for their end-of-the-month luncheon, with a special appearance by guest speaker Isa Ann Swarez, an advocate against cyber crime sextortion.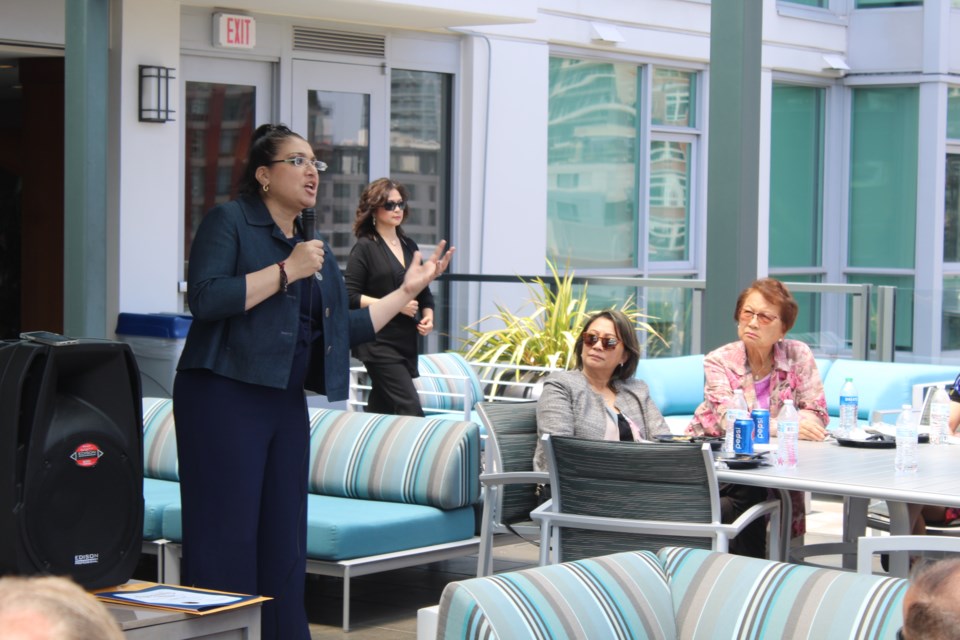 On Wednesday afternoon, the Filipino Lumpia club hosted their monthly gathering in Downtown, San Diego, where they received a special speech by Swarez on the topic of bullying and sextortion.
With dozens of people in attendance, including professionals of all type of industries, Wednesday's event raised awareness on a crime authorities say the public must become more aware of going forward.
Sextortion.
One of those authorities is Special Agent Joseph R. Bonavolonta, representing the FBI's Boston Division, who recently released a statement mentioning that, now more than ever, this particular cyber crime is on their radar.
"Predators who ask for sexually explicit photos, videos, and then money to terrorize young victims with threats of posting their images online are incredibly disturbing, and on our radar," Special Agent Joseph R. Bonavolonta said in a statement this week.
The FBI agency says the number of cases involving this crime has increased in recent times, which aims particularly at young minors through cyber threats and money.
"The FBI is receiving an increasing number of reports of adults posing as young girls coercing young boys through social media to produce sexual images and videos and then extorting money from them," the FBI agency said April 27.
Isa Ann Swarez, who spoke at Wednesday's luncheon, recently experienced the loss of a family member through sextortion, a loss that impacted her life in such a sudden and unexpected way.
Isa's nephew, Matias Gyetva, was just a senior in high school when he started receiving cyber threats of extortion at the age of 17, just under two months before turning 18.
Their family were blindsided by the death of Matias, especially with the way in which it occurred with cyber threats involving explicit photos.
"I was very blindsided to find out that he was being extorted, and then I googled and found out that there's something called sextortion." Swarez said on her experience involving the loss of her nephew, Matias Gyetvai. "Losing a family member to this was a shocking reality, this type of action is occurring for money, and it's diabolic that criminals use this type of technology for child pornography and extortion."
Swarez says that in order to prevent families from experiencing the same pain she and her family went through, there must be educational programs created to provide knowledge on this issue, and to teach how to combat this particular cyber crime.
"We need education-based programs, so that teenagers and young adults could learn to turn to someone for something like this, because many of them feel embarrassed talking to their parents about this." Swarez said.
"But it all starts with raising awareness. If we all come together, we can definitely achieve more by getting the word out. If each community takes this type of initiative and stay strong together, we can create community-based programs that can become eligible to get funded for." she added.
Swarez says that social media platforms can also do their part in making it easier for victims of sextortion to report these kind of cyber threats.
"Social Media accounts should have an emergency button to report sextortion, kidnapping, bullying, or anything else immediately that needs to be reported, with all pictures, text messages, and information if the perpetrators, to the police."