California Holistics will be hosting a free cannabis-themed lucha libre wrestling show here in Chula Vista.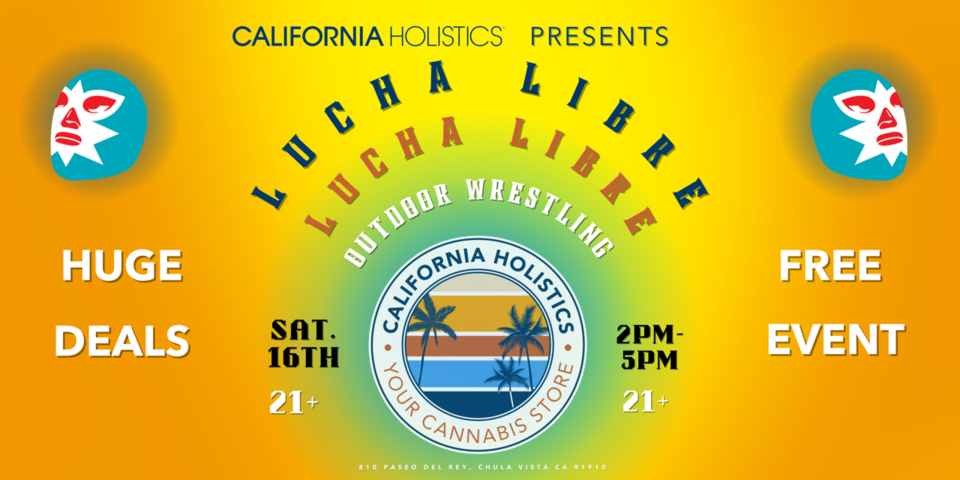 The Latino-owned social equity cannabis brand, LUCHADOR, is partnering with California Holistics to host this professional wrestling and lucha libre event this Saturday, July 16th in the Rancho Del Rey area from 2pm-5pm.
The exact address where this event will take place is the following:
810 Paseo Del Rey, Chula Vista 91910 off H street
This cost-free event will be featuring over 20 local professional wrestlers battling it out for three hours full of entertainment. The event will be held in the outdoor parking lot next to Chili's on E. Street. and Paseo Del Rey. The event will also have a variety selection of product deals from its partnering brands.
The LUCHADOR'S lucha libre shows have been a success in the state's cannabis scene since they launched last year in the city of Los Angeles. The free shows usually hosts up to 1,500 people to their events.
Some of the luchadores featured in this event include current NWA Tag Team Champions Bestia and Mechawolf aka La Rebelion, legendary veteran Damian 666, AAA Lucha Libre's Mr Iguana.
About LUCHADOR:
This company was created by Guadalajara-native Carolina Vazquez Mitchell, also known as La Cientifica, founder and Chief Scientific Officer of Ciencia Labs. Carolina has crafted over 100 cannabis products, including an award-winning cannabis sleep product called dreamt. The Guadalajara-native has even been a featured expert in Rolling Stone, and she's currently the Science Editor for the Los Angeles-based mg magazine.
About California Holistics:
This Chula Vista-based company is a legitimately licensed cannabis store that serves their products to adults of 21 years of age and older. The local company is committed to providing top-tier quality service hand-in-hand with science-backed cannabis education.
For wrestling fans interested in attending this weekend's event, RSVP via Eventbrite.