The Metropolitan Transit System, North County Transit District, Albertsons/VONS and Girl Scouts San Diego are all teaming up to kick off the 14th Annual Stuff the Bus Food Drive.
Up until April 16, San Diego locals are encouraged to donate and drop off non-perishable food items to any of the 73 Albertsons or VONS locations in San Diego County.
All food items donated will be going to the Jacobs & Cushman San Diego Food Bank and the North County Food Bank, before eventually being distributed to local organizations that assist families living in poverty.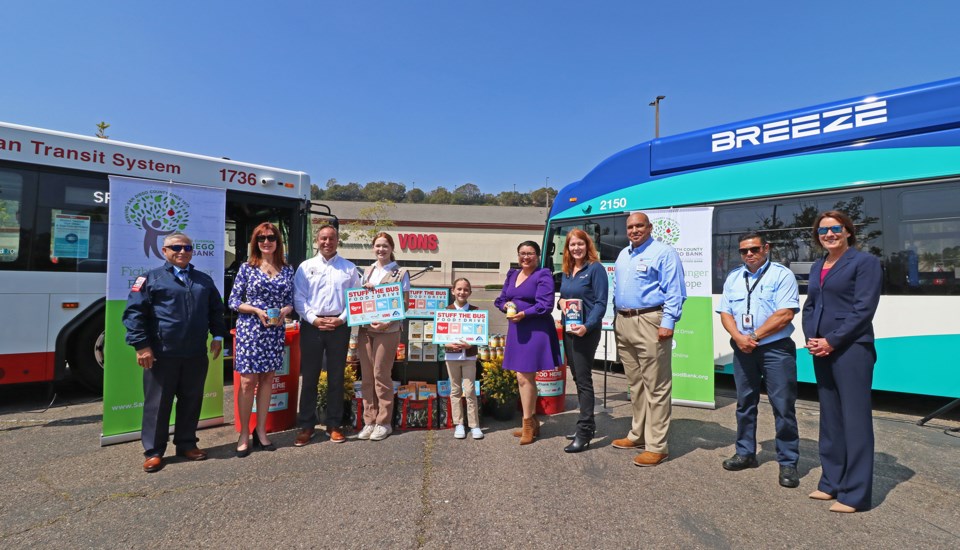 Alejandra Sotelo-Solis, Vice Chair of the MTS Board of Directors and Mayor of National City, says that since the birth of this food drive 14 years ago, they have been able to contribute to the rise of 100,000 pounds of food for those in need.
"MTS launched Stuff the Bus 14 years ago to raise awareness about the issue of hunger in San Diego and help families in need," said Alejandra Sotelo-Solis. "Through this effort, we have been able to help raise over 100 thousand pounds of food. With the help of our partners and the people of San Diego, we are confident we will be able to make this year's effort a success once again."
Jewel Edson, North County Transit District Board of Directors Chair, says that he has high hopes of North County locals stuffing those donation buses with food assistance for families in need of a meal.
"With so many families facing hunger and food insecurity throughout the year, NCTD is glad to be a partner in this important event," said Jewel Edson. "We hope to see our North County residents stuff our buses to the brim and help our neighbors in need, especially during these challenging economic times."
Stuff the Bus is currently the largest countywide service project for Girl Scouts San Diego.
A service project that Vons & Albertsons Area Vice President Rick Williams says he's proud to partner up with for this greater cause in San Diego County.
"As a company, we are fully committed to hunger relief programs, and are proud to host a food drive tackling this important issue," said Rick Williams, Vons & Albertsons Area Vice President. "Stuff the Bus and donation barrels are prominently located in all Albertsons and Vons locations in San Diego for this worthy cause, and we look forward to seeing them filled during the food drive campaign." he added.
For additional information on this food drive, visit the MTS website at sdmts.com or the NCTD website at GoNCTD.com.