San Diego Wave came out in full force Friday night after a tough loss last weekend on the road against Angel City FC up in L.A.
The Wave accelerated on all cylinders from the beginning by applying pressure on Louisville, but they just couldn't find the back of the net when they had the visitors against the ropes.
Racing Louisville FC, who currently sits 3rd to last on the NWSL standings, came into San Diego and delivered an impressive performance against the top team of the league in Wave FC.
San Diego also had their massive opportunities tonight, including one chance where the ball was cleared off the line in the second half that nearly sent Torero Stadium into a frenzy.
However, after the first 15 minutes it became clear that the visitors were gaining momentum on the offensive end, creating the better chances and causing confusion for San Diego's defense. The quality performance from the visitors was enough to leave Torero Stadium with a huge point, as they continue to manage to avoid the last two spots of the league standings.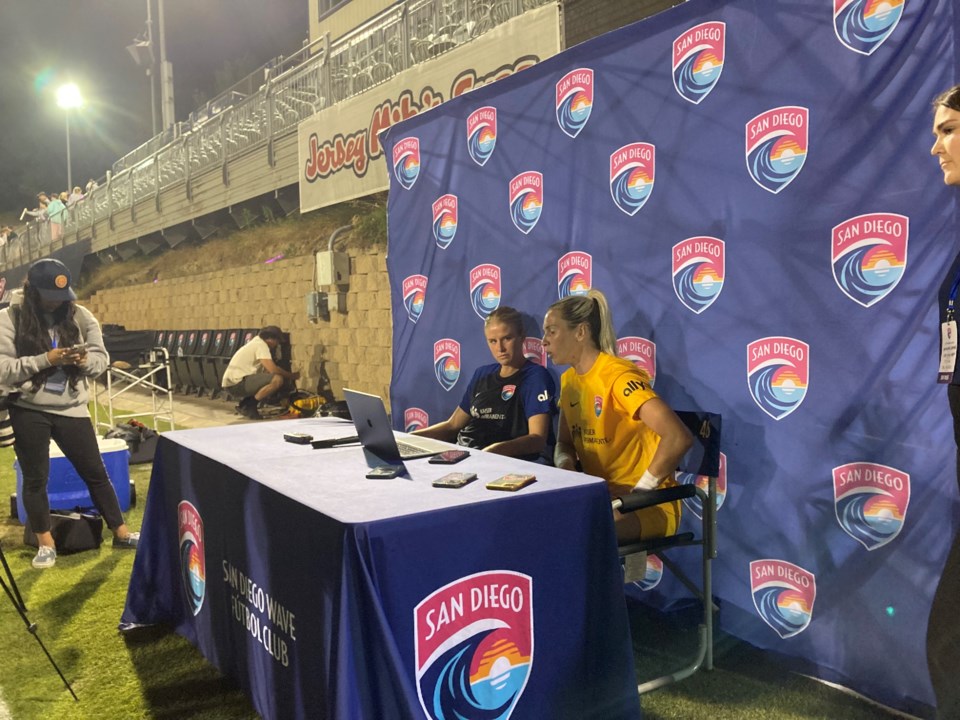 Racing Louisville FC could have won this match had it not been for Carly Telford's heroic performance in this game. The English goalkeeper had breath-taking saves in the first half when Louisville knocked on the door, but it wasn't until the second half of the game when Telford saved a penalty to keep San Diego in the game. She was named player of the match.
After the match, San Diego's head coach Casey Stoney praised her goalkeeper for her heroic performance, emphasizing her efforts in a time where Wave FC starting goalkeeper Kailen Sheridan is away on international duty.
"Telford was outstanding and the reason why we got away with one point. Big penalty save," said Stoney. "She proved her worth tonight with massive games that kept us in the game and I'm really proud of her performance."
San Diego Wave are now entering their bye week before they return to action on Saturday, July 30, against Chicago Red Stars on the road over in the east coast.
Fortunately for the Wave, most if not all players on International duty will be back on Stoney's starting line up by the next scheduled match in two weeks.
Despite the draw, San Diego Wave FC still remain on top of the NWSL table.