This week has a lot going on in San Diego, and we are here to give you the heads up on upcoming activities.
Here are 5 events around the corner this coming weekend.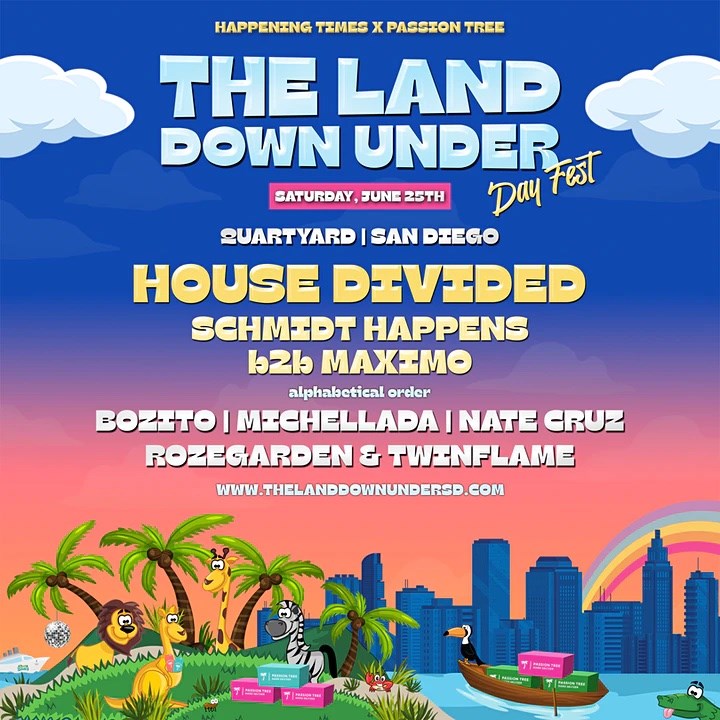 The Land Down Under Music Festival – Sat, Jun 25, 10 PM
This vibrant event will be full of life and the music blasting loud into the air. Event hosts say you are encouraged to come dressed with an animal-like attire for the theme of the night. the event will be hosted at the following address:
Quartyard
1301 Market Street, San Diego, CA 92101
Camino Festival 2022 – Sun, Jun 26, 1 – 8 PM
This exclusive celebration will embrace the hottest things to offer at Camino Riviera, including Cuisine, Cocktails, Wine, Art and much more. This festival will also be supporting a large cause. A portain of the money raised in this event will be donated to LADLE Foundation that assists the children of Tulum, Mexico.
Camino Riviera
2400 India St, San Diego, CA
At this event there will be the following:
-Live music from Israel Maldonado and Camino Riviera resident DJ's: Paloma, Memo Rex, & Two Shoes.
-Authentic Spit-Roasting and Carving
-An array of culinary tasting stations
-Wine tastings; including La Lomita, Casa Jipi, Tresomm and Bruma.
Boyz II Men – Sat, Jun 25, 7:30 – 10:30 PM
The Rady Shell at Jacobs Park
222 Marina Park Way, San Diego, CA
Something that always hits the nail on the head is a good night of R&B classics. Boys II Men are one of the most recognized R&B groups of all time, providing classic jams such as End Of The Road, On Bended Knee, I'll Make Love To You, and more.
San Diego Tequila Tour – Sat, Jun 25, 3 – 5 PM – Meet at Baja Rockin' Lobster Cantina
You can never go wrong with Tequila. Here at the SD Tequila Tour, you will be surrounded by fellow Tequila fans, and you will be able to enjoy friendly company, and meet new people as well. The tour takes places in the following order.
Baja Rockin' Lobster Cantina, Old Town Tequila Factory, and then El Agave Tequileria.
Trivia Night 8pm – Martinis
Martinis San Diego
3940 Fourth Ave, San Diego, CA
Everyone loves a good trivia night. And at Martinis San Diego, they have Trivia Night every second and fourth Saturday for you and your family and friends to enjoy on a chill Saturday of fun. A wide variety of food and cocktail selections are available to chose from. The seating takes place at 7pm and the Trivia Night begins at 8pm.