The show continues for Ryan Garcia.
Saturday night at The Alamodome, the 23-year-old Mexican-American defeated Emmanuel Tagoe by unanimous decision after 12 rounds in front of 14,459 boxing fans in San Antonio.
Garcia, 23, approached this fight eying another knock-out for his resume, however, the South Californian ended up fighting all 12 rounds of boxing for the first time in his career on Saturday night.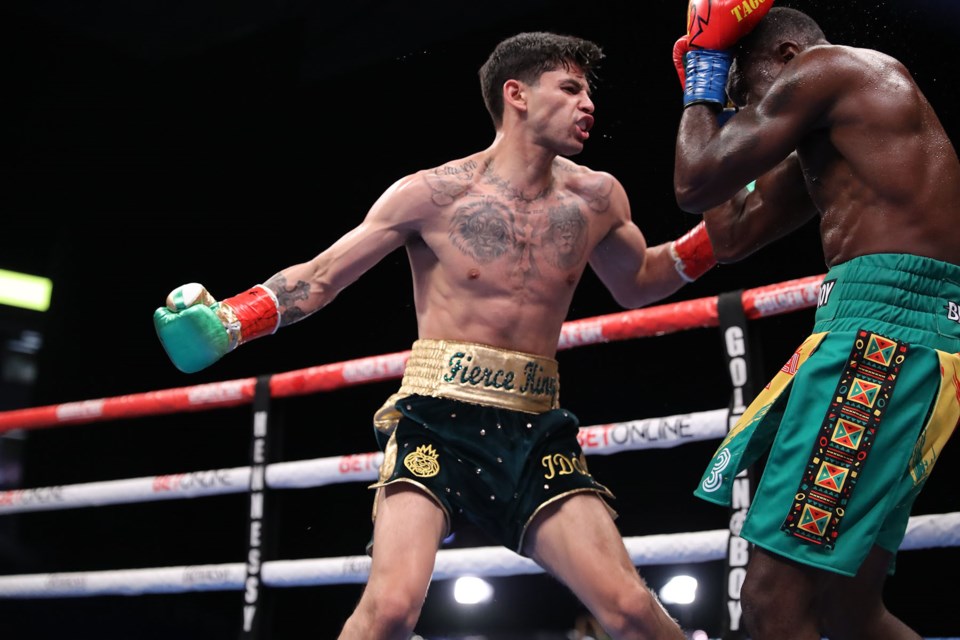 The Mexican-American says that his inability to end the fight with a knock-out was in large part due to Tagoe's craft Saturday night. However, Garcia says that he was still able to utilize his left hook to land enough damage on the Ghanaian boxer in order to win the fight, and also attributed his victory to the strong support he received last night at The Alamodome.
"He was making it difficult for me to end it," said Ryan Garcia. "He was crafty with the holding, and I was trying to get him off me, and he was moving a lot; it was a new experience. I think I have to cut the ring off better with a guy who will keep moving all 12 rounds. I made sure to get him in the body a lot and used my left hook to hurt him. I have a lot of love for San Antonio. It was great that after a year and a half layoff, I was received by such a great crowd. It's a blessing. I wanted to knock him out, but he was very crafty. At the moment, I could feel like I hurt him, but he really can take a punch."
Oscar De La Hoya, Chairman and CEO of Golden Boy, said that Ryan looked fantastic Saturday night, and also credited the Ghanaian for putting up a respectable and impressive performance in this pay-per-view main event.
"I think Ryan did a fantastic job, after a one-and-a-half year layoff," said Oscar De La Hoya, Chairman and CEO of Golden Boy. "He fought a tough guy from Ghana with only one defeat, he was slick, he was tough, he was surviving the whole night. Ryan almost had him out but I am glad Ryan went 12-rounds, it was a great experience."
This is Garcia's first fight and first victory with trainer Joe Goossen in his corner, which marks an important first step in their recent partnership since parting ways with Eddie Reynoso.
Goossen says that during the fight, he kept telling Garcia to go after Tagoe as he kept moving around the ring frequently, encouraging the Mexican-American to apply pressure as each round went by.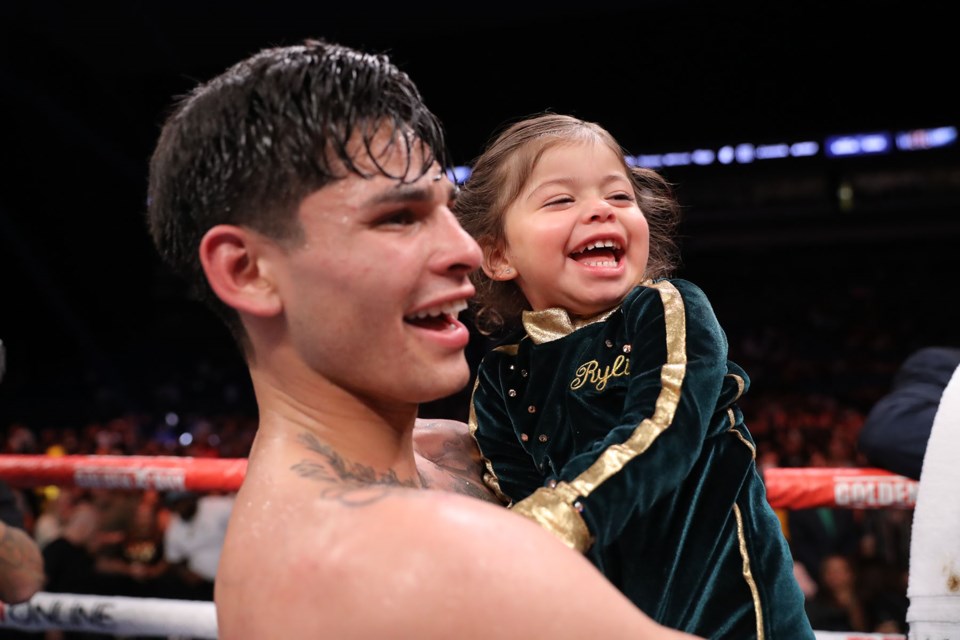 The advice worked for Garcia as the fight went on, as it became evident that Tagoe had eventually entered survival mode and had stopped looking for hard hits on his younger and quicker opponent.
"In between rounds I was just telling him you've got to track him down. He's not going to engage you just have to keep the pressure on. He's a tough kid. He only has one loss at the beginning of his career. He's been on a winning streak for a very long time. He has a great chin. He was in great shape and he came here to win. He didn't come here to lose. But after a while he was not trying to win, he was just trying to survive," said Joe Goossen, Trainer to Ryan Garcia. "Ryan was then trying to track him down and trying to catch him. Tahoe was not being very agreeable and he didn't engage to fight a lot." he added.
And on the other side of the ring, Peter Khan, Manager to Emmanuel Tagoe, says that considering the fact Tagoe was out of the ring longer than Garcia, it was a good performance by his fighter, where the Ghanaian displayed that he has a tough chin in a boxing ring.
"Emmanuel went 12 rounds with Ryan. Emmanuel was out of the ring longer than Ryan so I think that's a victory. I think we learned that Emmanuel has a chin, he took some big shots tonight. It was a good fight and Ryan performed really well."
The 23-year-old Mexican-American boxing star still remains undefeated after sealing a score card of 119-108, 119-108 and 118-109.
And now we will have to wait and see what's next for boxing's biggest rising star, after Garcia published an Instagram post shortly after his victory, captioning "comment who would you like for me to fight next?".