Southwestern College celebrated four years of serving and uplifting undocumented students and their families through the Dreamer Center.
For the past four years, undocumented students, recipients of the Deferred Action for Childhood Arrivals (DACA), or Assembly Bill 540, have been connected to resources through the SWC Dreamer Center. SWC was awarded $340,00 for three years from the California Campus Catalyst Fund to establish the Dreamer Center, which opened on April 25, 2019.
The state grant enabled more resources for undocumented students at SWC and additional opportunities to collaborate. The Dreamer Center partnered with Vallarta in its second year of operation to establish a scholarship fund for students, which funds a scholarship awarded to students, according to SWC director of Student Equity Programs and Services, Guadalupe Corona.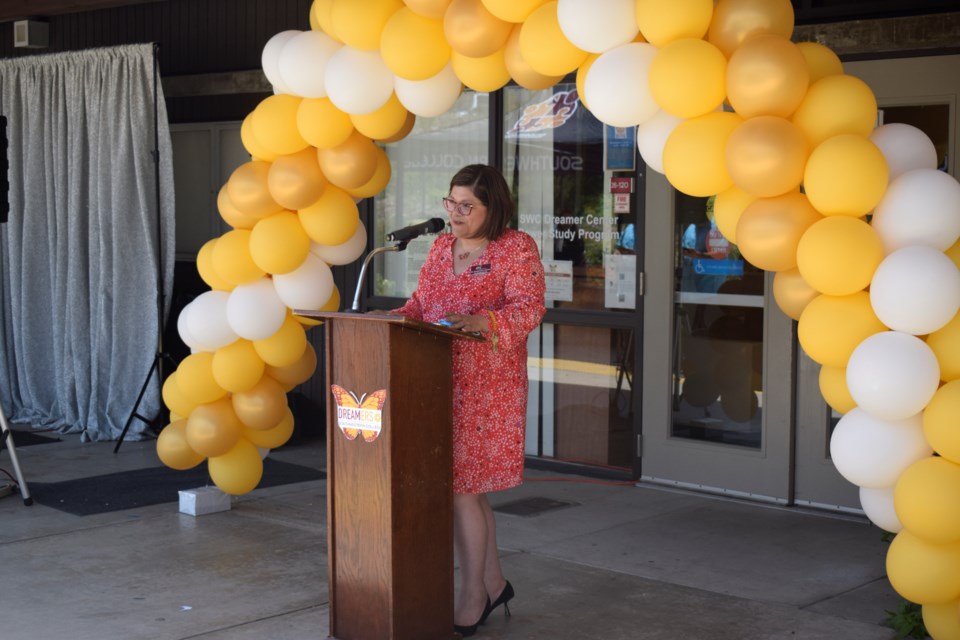 "As we weaned off the grant, the state started noticing all these amazing centers doing this work throughout the state of California. We were fortunate to get funding from California to support the Dreamer Center once it ended. We are now fully funded by the state, and the grant supports our staffing, services, and partnerships with the community," Corona said.
In 2021, the California DREAM act provided the DREAM Act Grant to provide work-study opportunities for students on campus to develop their academic or aligned with their aspirations and areas of interest across the campus. According to Corona, the college has been able to have two fellows to develop projects and research, ideas, or services to help students on campus.
"It takes a village and community to help students be successful," Corona said. "It takes all the resources and the opportunity to get to know what our students need and where we can find our support for them and their families."
Since its inception, the Dreamer Center is student-oriented, according to Corona.
"Our work needs to be centered around the student. That is what keeps us focused on how we can improve. The grant gave us an important foundation as we continue to grow," Corona said.
According to Diana Perez, a student worker at the SWC Dreamer Center, an individualized approach is taken when speaking with students about services provided throughout the semester. The Dreamer Center has served over 150 students, supporting them from enrollment through completion.
"This semester we focused on mental health and entrepreneurship. We also host California DREAM Act students who volunteer to increase their financial aid awards. Overall, we support students with technology, emergency funding, and other services," Perez said.
According to Dreamer Center Project Specialist Alejandra Garcia, this is the first year the Dreamer Center has been able to identify and support students who are graduating. There are seven students in the program that are transferring.
"There is a lot of work that we invest in working with undocumented students finding support and financial support for them to continue their journey in higher education," Garcia said.
As a first-generation student and the oldest of three siblings, Sherlyn Covarrubias said she wasn't sure how to ask for help because of her status.
"There was a bit of pressure when I was supposed to be the one to be teaching my siblings. The Dreamer Center was honestly a god-sent. I had just finished high school in the middle of a pandemic that had just started a few months before. So it was a huge struggle for me," Covarrubias said.
Covarrubias said she had no idea SWC had a Dreamer Center.
" I never looked into it because as a kid, you're taught not to talk about your status, especially in front of anyone else," Covarrubias said. "I wasn't sure how to ask for help. Miss Garcia was so helpful and made me feel so welcomed. She helped me with so much along the way from finding resources like workshops, and fellowships, to scholarships that I would have never applied to because of my status as an undocumented student."
Covarrubias is a part of the California DREAM ACT volunteer program. She is among 20 students statewide who received the Student of Distinction award. She plans to transfer to San Diego State University in the fall as a business administration major in real estate.
That Dreamer Center offers transfer scholarships every scholarship cycle. This year, the transfer scholarship was awarded to Neftali Garcia, who earned several scholarships this semester, including one from the Chicano Latino Coalition.
"I do see us growing. One of our goals is to have a learning community of students as we see the numbers grow so that we can continue doing what we do best in our best practices. To help communities is the way to go. We're hoping in the next couple of years, we will have some space to celebrate our dreamers, students, and community," Corona said.