Transit agencies launched a three-year pilot project on Tuesday that makes San Diego the first in the nation to use transit vehicle-to-infrastructure technology that allows buses to communicate with freeway ramp meters.
The Transit Only Lane Demonstration Project, also known as "Bus on Shoulder was made possible by the San Diego Association of Governments (SANDAG), the San Diego Metropolitan Transit System (MTS), and Caltrans District 11. The program will be carried out in two phases, operating along Interstate 805 and State Route 94 between National City and Downtown San Diego.
During heavy traffic congestion, South Bay Rapid buses operate on selected freeway shoulders to help bus drivers to bypass slow traffic. Buses on Route 225 will operate on from Monday to Friday, between 5 to 9 a.m. and 3 to 7 p.m.
The busses are operated by specially trained drivers and equipped with driver assistance technology, including sensors that monitor the lanes and provide audio and visual alerts to help operators avoid potential conflicts.
The Phase 1 route includes northbound I-805 from the Imperial Avenue off-ramp to the northbound I-805/westbound SR 94 connector in the morning and the eastbound SR 94/southbound I-805 connector in the evening.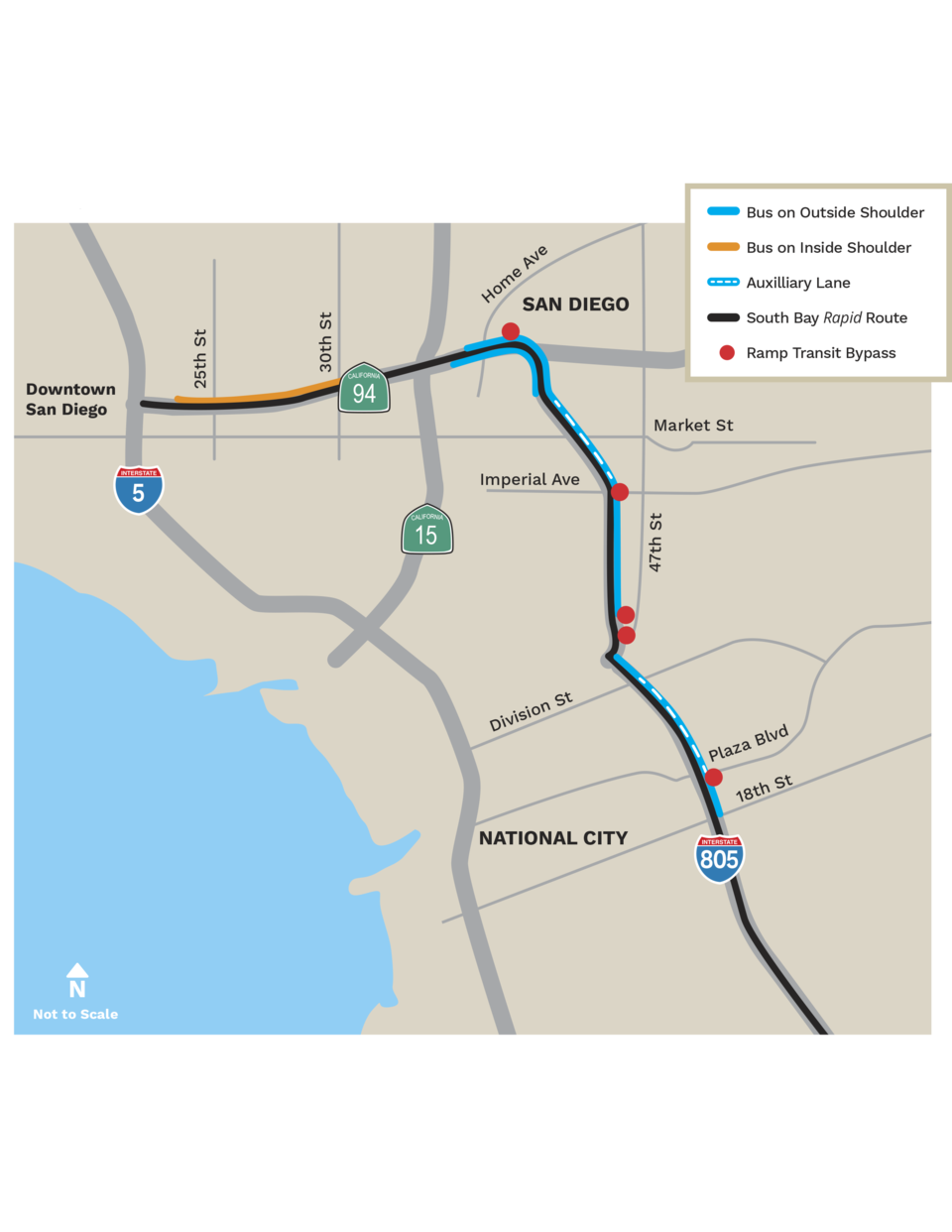 Phase 2 is anticipated to launch in fall 2022 and will include several additional miles along NB I-805 and WB SR 94. Officials said construction for the project was completed earlier this year, including the installation of metering technology at specific ramps and interchanges along I-805 and SR 94.
Buses will only enter the freeway shoulder when travel lanes are operating under 35 mph and will travel at a maximum speed of 35 mph on the shoulders. The shoulders will always be accessible to law enforcement, emergency response, and incident management vehicles.
Drivers who follow busses onto the shoulder lane could face violation fees at a minimum of $401, according to program officials.
According to program officials, sections of the freeway shoulders were also repaved with added striping to make drivers aware of the project route. Other renovations include new bus lane and driver information signage, connected vehicle technology at ramps and interchanges, and on-ramp "Bus Merging" stoplights that give the bus up to 15 seconds to pass safely.
For more information, visit KeepSanDiegoMoving.com/BusOnShoulder.